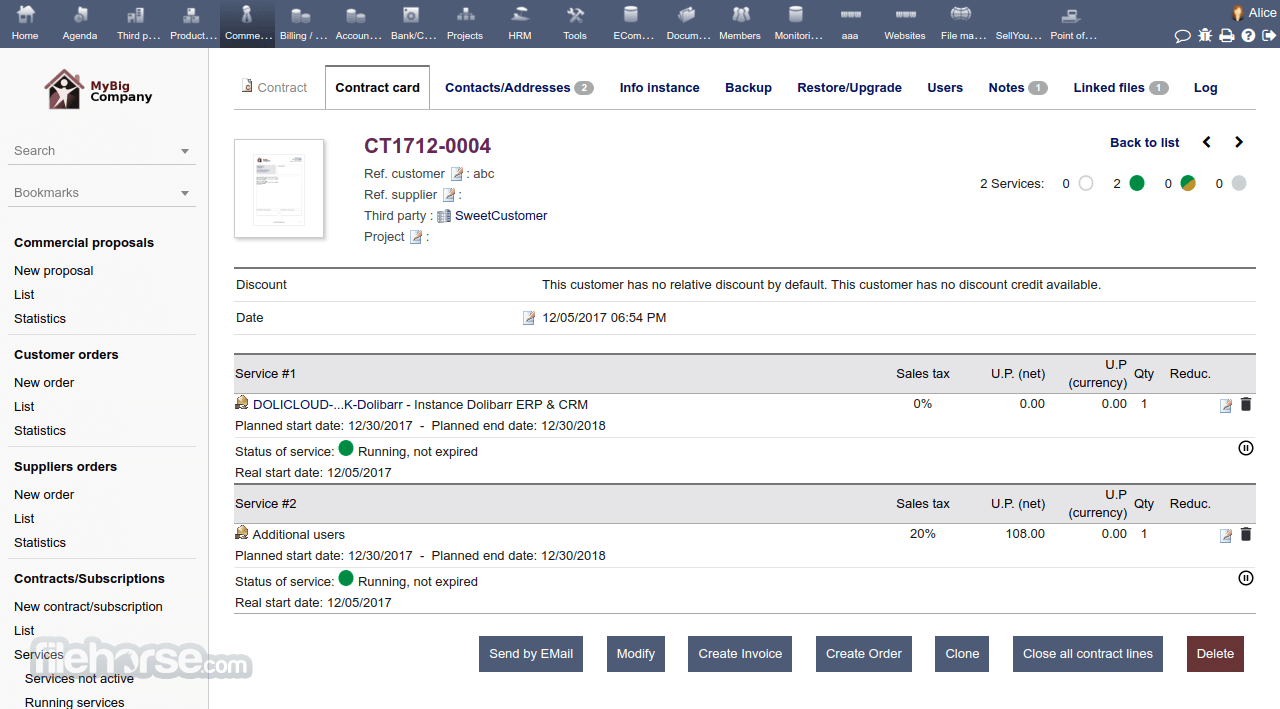 Dolibarr is a modern ERP and CRM tool and easy-to-use Windows software package to run your business! Customers, invoices, orders, products, stocks, calendar, emails, shipments … all in one great package program! Also, this model allows us to have a very large end-user base, so you can improve the user interface from a lot of feedback. This is an important factor why Dolibarr is known to be the easiest ERP and CRM on the market.
You only enable the feature you need. So whatever your business management need is (sales, HR, logistics, stock, billing, accounting, manufacturing, etc.), you can configure the application to match your need and just your need. The integration between the functions / modules that you decide to use is ready "in the box", so even without customization, users are ready to work immediately and will not have to double-enter their information system.
Because new version updates are, by design, built into the development process, you can update to the latest version at any time, whatever your current version, without losing any data. So users always benefit from the latest features and innovations.
Market Place is available to all developers and organizations, to centralize several hundred external plugins, made to enhance the application for specific needs. Therefore, you can extend the possibility of your application without any coding development, and you can use the module creation wizard, or do custom development if this is not enough.
You can install and use Dolibarr as a standalone application, or online on a shared or dedicated server or virtual machine to use it from anywhere, any desktop, tablet or smartphone. It is available in various forms: from the self-installing packages that install Dolibarr and all the prerequisites without the need for technical knowledge, from the standard distribution that works on all platforms of operating systems and PHP architecture (Windows, Mac, Linux). Dolibarr, of course, is available as a SaaS application on ready-to-use cloud services.
Features and highlights
CRM / Sales
Prospects / Clients
The opportunities
Proposals
Requests
Contracts / Subscriptions
Human Ratio (HR)
Employees
Expense report
License requests
Timesheets
CMS / Website / E-Commerce
Electronic commerce
Products and services
Stocks
Purchase, Procurement
Shipments
Finance and Billing
Billing and payments
Bank reconciliation
Double entry accounting
Marketing
Email
Polls
Productivity
Projects, Tasks
Interventions
Agenda
Integration
API
Connectivity with external tools.
Import and export
Module Builder for developers
Note: Requires web server.