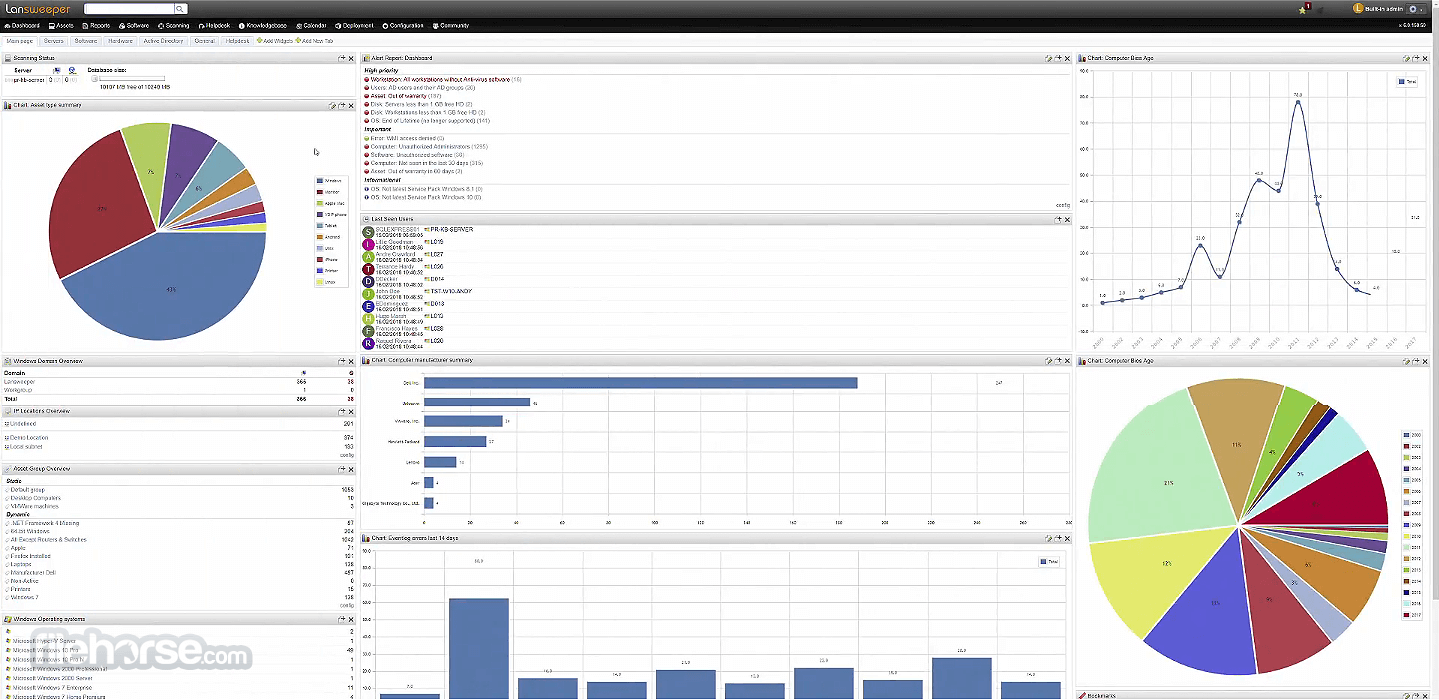 Discover all the IT assets on your network without having to install any software on your machines. Lansweeper searches and collects information on all assets, lists hardware specifications, installed software, user details, and much more. Remove one of the biggest obstacles in IT, gain complete visibility into your network, and save valuable time and resources.
All your hardware, software, and users, all in one place. Lansweeper consolidates all asset details into a centralized web-based record system. It gives companies complete visibility into their distributed IT environments, informing them what assets they own, where they are located, who is using them and much more. By clicking on an individual asset record, you can see all the granular information that Lansweeper has collected.
Get the answers you need in no time. Need a quick overview of all the printers in the office or the serial numbers of all your PCs? Need a breakdown of all the new devices found in the last 24 hours? Choose from over 400 ready-to-use network reports or create custom reports in minutes.
Get a complete and detailed inventory of your IT assets wherever they are – on premises, cloud instances or mobile endpoints. Go beyond the vast amount of asset information that is retrieved by default and get an inventory of complete and updated assets. Choose from over 400 ready-to-use reports or create custom reports in minutes. Set up dashboards for a panoramic view of your IT.
Features and highlights
Software inventory
With the application easy to track and audit all your installed software, you can create powerful software inventory reports to find out which application is installed on which computer. Search for unknown Google software and publishers directly from the web interface and find out who is running software that is out of date.
Network inventory
Not only can the program detect all hardware devices on your computers, but with its change tracking you can find out when a device was changed or removed. It not only scans Windows devices, but also collects details about all other IP-enabled devices on your network from the network discovery scan. (Linux, printers, routers, …)
IT asset management
The application's asset management features give you an instant overview of all the hardware on your network. Keep track of assets currently in use, anything in stock, and if you like, anything that used to be active on your network. Manually assign states to assets (for example, "stock", "under repair") or use the cleanup options in the database to list only current hardware.
CMDB ITIL configuration database
Lansweeper's CMDB options allow you to scan assets as well as manually add assets to the web console. Use the New Asset button to create assets or import from a CSV file. You can then group your assets, place them on a map, create relationships with other assets or users, and more.
Nota: Requiere MS .NET Framework.