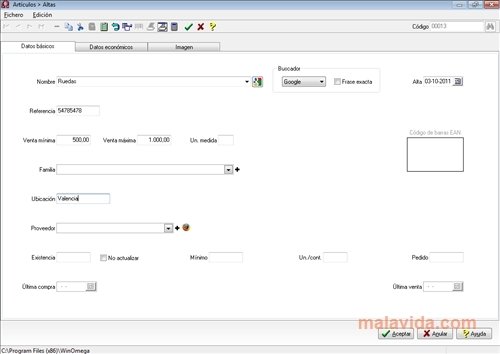 WinOmega is a integrated business management package ideal for small and medium-sized companies (SMEs) that, through its simple interface, contains all the necessary tools to carry out the management and accounting of any business.
Among its capabilities billing, you can manage both the issued and received, print invoices and labels, as well as save receipts, verify credit cards and manage various forms of payment.
Indispensable tool for any SME
Through its utility of warehouse We can manage orders to suppliers, register entries and exits, modify delivery notes or transform estimates into delivery notes or invoices.
Through its powerful editor We can manage all the files of articles, clients, suppliers and commercial agents, adding all the data we want with various sorting and printing options.
The program has all kinds of small profits, such as notepad, calculator, calendars, agenda, various lists, label printing or the calculation of commissions.
With WinOmega we can work online through a local network. The program can import data from FacturaPlus and can connect with other accounting programs such as ContaPlus, ContaNet, ContaWin or ContaClip.
It has an interesting help contextual, through which the most inexperienced can learn its handling in a short time.
A simple and practical application that tries to centralize all the necessary tasks to run a small or medium-sized company.